The philosophy behind the ministry of prayer is that no spiritual goal can be accomplished and no lasting fruit can be "harvested" for the kingdom of God apart from being  under girded with prayer.  This philosophy is based on our Lord's own words in the Gospel of John chapter fifteen wherein Jesus said, "apart from Me you can do nothing."
The purpose of the prayer ministry is to glorify God by stimulating the believers at TBBF to engage in this essential discipline in a manner that is commensurate with a mature, God-honoring life.
The Goal of the prayer ministry is to realize the full power of God touching and blessing ministries at TBBF (as well as missionaries we support, etc.) in such a way that we all might bear fruit for His kingdom and that our fruit will remain.
Prayer is our privilege and responsibility as believers.  It is our great privilege to pray as believers because, although we are still sinners, the Lord Jesus Christ has given us free access to the Father.  It is our responsibility because we live in a sin-sick world full of pain and heartache, hunger and poverty, violence and war, illness and death.  We live in a world of people with real needs – needs that, in many cases, only God can solve fully.  Therefore, it is our responsibility to lift these needs up before a merciful and mighty God Who stands ready to answer the prayers of the saints according to His gracious will.
Prayer & Care Ministries
Love: Share
Leader: Gary & Lisa Birch
Cell Phone: 818.802.7956
Love Share is a ministry of The Bridge Bible Fellowship dedicated to reaching out in love and encouragement to the elderly, to bring fellowship and prayer to those visited, to assist the Pastors by informing them of needs in the church body and to provide a bridge of communication between the church and the ones visited. Any member of the church who wants to reach out in love is invited to participate. We meet from 9:30 – 10:00 am in the "C" Building on Mondays to receive assignments and then go out to visit.
Care Ministry: Meals
Leader: Margaret Borkin
Cell Phone: 818.523.6489
Our Care Ministry exists to help those in this local body of Christ with immediate, short term needs such as meals or light housekeeping following an illness or hospitalization, providing rides to a doctor's appointment, etc. If you are part of TBBF and are in need of help, please contact Margaret Borkin. We count it a privilege to have the opportunity to minister to one another.
Grief Share
GriefShare is a friendly, caring group of people who will walk alongside you through one of life's most difficult experiences. GriefShare is for people grieving the death of a loved one. It is a 13-week program. For more information on this program, go to www.griefshare.org. People dealing with grief find they don't recover on any given schedule. The few days off work allowed for a funeral does not permit recovery. "You won't get through this in a healthy way unless you turn to God." GriefShare is a Bible-based program that features 30 to 40 minute video presentations by speakers who have knowledge on various aspects of grief followed by discussion. GriefShare brings an element of hope and the message that there can be joy again.
Prayer Meetings
Sunday Prayer for Worship
Every Sunday we have a prayer meeting before our first worship service in the Bride's Room. We invite you to come and join us as we pray for our services. We would love to have people commit to praying with us one Sunday per month or as often as you can.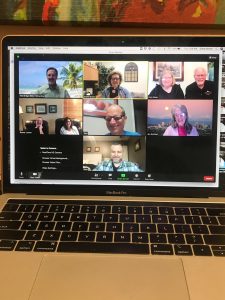 Thursday Morning Prayer with Pastor Paul
Every Thursday morning from 7-8:00 am join Pastor Paul in prayer for missions and outreach. This group is currently meeting via Zoom. Contact Diane Brown for specifics (dbrown@bridgebible.church).
Resources
Submit a Prayer Request
If you are part of the body of TBBF, email Diane Baker in the church office with your prayer request. These requests will be emailed to TBBF church members. Click here to send email.
Request a Home or Hospital Visit
If you have a family member who would like to have a visit, please contact either our Chaplain, Casey Walker, (818.378-8787) or call the Church Office at 818.776.1500.
Community Assistance for Homeless in Area
Refer to the listing below for information on organizations in the Valley who provide food and/or showers for our area homeless.