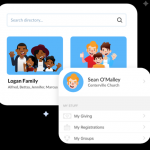 Have you ever wanted a phone number or address of someone you've met here at The Bridge? Or want to see a picture of someone who is on the Prayer List that you're praying for? Thanks to all those who have recently added themselves to our directory!
Back in December of 2020, we invited all Members and Regular Attenders of The Bridge to be a part of our online Church Directory. Many are listed but for it to be an effective tool for our church family, we need everyone to participate.
If you are not yet a part of the directory, please email Diane Baker (dbaker@tbbfchurch.org) and we will email an invitation out to you. Know that Only Members and Regular Attenders of The Bridge are invited to participate. YOU will be in complete control as to what information YOU wish to share with others, and what information YOU wish to keep PRIVATE. You can make changes at any time!
Also, if you had your picture taken at The Bridge back in January 2020, we can help you add that photo to your profile – contact dbaker@tbbfchurch.org.  It's wonderful to see familiar faces and put names to faces we've yet to meet!
Share this