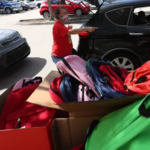 The BK Backpack Give-Away Drive-Thru is now scheduled for Saturday, July 30th, 10:00 am – Noon, while supplies last! One per child (who must be in the car to receive one) – drive-thru distribution only. This is open to not only our church family, but also to our community so spread the word and invite others! Each backpack will have much-needed school supplies inside and an invitation to visit The Bridge!
Here is a copy of a flyer that you can print 2-sided (one side is English & the other is Spanish)/cut in half, and use to let your friends and neighbors know about this great opportunity.
We are also still collecting funds for this service project – you'll find specially designed Backpack Giveaway envelopes available in some seat pockets, on the stage, over at the Bridge Café  and at the Information Center if you can help. You're also welcome to use this direct link to contribute to this Local Outreach.
Thank you for your support of this BK Service Project! May it be a blessing to many families in our community.
Questions? Contact Xiomara Bueno at Xiomara@bridgebible.church.
Share this