Be a part of the Construction of a Loft Home with Hands of Mercy Pre-build at TBBF, ultimately to be built for a family in Ensenada.
EVERYONE IS WELCOME, ALL AGES! 
PREBUILD – Sat., Oct. 1, 8:30 am, K Bldg.
Parking lot prebuild, 8:30 am – 1:30 pm with a light breakfast/lunch offered.
Bring the whole family! No experience needed. Bring a hammer and nail pouch if you have them.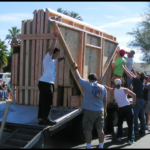 Fri., Oct 14 – Sun, Oct 16 Ensenada trip 8:30am departure.
This trip currently has a waitlist. If interested in going, please email The Pirceys at pirceyx2@aol.com.
LOFT HOUSE ITEMS NEEDED 
There is also a need for items to accompany these Loft Houses (specific food items, personal care items, home items, etc.). Refer HERE for all the details and to sign up to bring a specific item.
The deadline for Loft House Items will be Sunday, September 25th (12:45 pm after 2nd hour). Thank you! 
Questions? Contact Staci Volker for any Loft House Collection questions (oneblessedmommy@gmail.com) or Tony/Julie Pircey (pirceyx2@aol.com) for general HOM queries.
Thank you for your support of this Hands of Mercy Mission Project.
Share this