Click HERE for info about meeting times & events
The Bridge Bible Fellowship Youth Ministry exists to magnify God and spread a passion for His glory by making disciples and shepherding them to value Jesus Christ above everything else. It is our prayer that students would come to treasure Jesus Christ above everything else that this world has to offer (Phil. 1:21) and that they would learn to live in such a way that everything they do in life is done in reference to Christ.
Bridge Youth Leadership – Jeff Borchardt – Pastor of Youth Ministries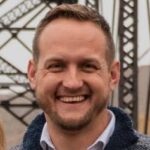 Pastor Jeff is the eldest of four born into a Christian ministry home. As early as he can remember, he attended church anytime the doors were open.  He often thinks back with gratitude to his parents' dedication to the local church, a priority which has shaped him to this day!
Pastor Jeff graduated from Maranatha Baptist University (B.A. in Humanities '04) and Bob Jones University (M.Ed. in Secondary Education '12). He is currently enrolled at The Master's Seminary working on an M.Div.
After graduating from MBU in '04, Jeff married Jessica and the newlyweds moved to Guam to teach at Harvest Christian Academy and Harvest Baptist Church. At HCA Jeff taught High School Science for 14 years and Jessica taught English for 6 years. Both Jeff and Jess served in the music ministry and the children's ministry at HBC. While in Guam,  the Lord also blessed them with their 5 children Jeffrey 3 (4/9/07), Jean Marie (8/26/09), Jonathan (10/12/2012), Judson (5/6/2014), and Jubilee (5/25/2017). In 2018, God moved the Borchardt family to Taiwan where Jeff taught Math and Science at Morrison Academy in Kaohsiung. It was through their time in Taiwan while ministering alongside missionary families that the Lord worked in their hearts to pursue pastoral ministry. The Borchardts joined The Bridge family in January of 2022 and faithfully strive to live by the dedication found in Joshua 24:15.
Pastor Jeff enjoys playing and watching basketball and football. On days off, you might find him hiking the CA trails with his family or splashing in the waves with his kids.
He also has a healthy love of music, and currently picks up the guitar for worship. Pastor Jeff especially enjoys singing songs about His Great Savior.
On a typical day, Pastor Jeff has a good cup of coffee (his favorite is Highlander Grogg from Berres Brothers) in his hand ready to share truths he has discovered from God's Word.  His life verse is I Samuel 16:7, a reminder that Yahweh sees the heart.