INVITE FAMILIES FROM YOUR NEIGHBORHOOD…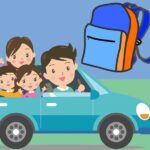 Thanks to your kind donations to our Bridge Kids' first service project of 2021, we are now able to schedule our Backpack Giveaway DRIVE-THRU for Saturday, July 24th, from 10:00 am to Noon, here on our campus. Backpacks are available while supplies last! One per child, no walk-ups please.
Invite your neighbors, especially those with children who don't have a church, to bring their kids to pick up a school supplies-filled backpack. We will also include, in every backpack, our service times and a bi-lingual invitation to worship with us.
CONTRIBUTIONS STILL NEEDED…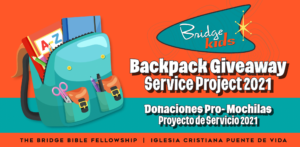 For those of you who haven't had a chance to contribute to this project, there is still time. We have raised funds for 388 of the 500 backpacks we are hoping to distribute. A specially designed envelope can be found in some seat pockets in the Worship Center or near the Offering Boxes on the stage. You can also visit the Bridge Kids Building (E) for an envelope.
If you'd like more details, or wish to contribute online, click HERE for all the information.
Thank you for your support of this BK Service Project! May it be a blessing to many families in our community.
Share this